Here are the players with the most jaw-dropping dunkers in NBA history. For as long as it has existed, the Slam Dunk Contest at All-Star Weekend has always been the final and most anticipated event on Saturday night. There is always the chance and excitement of witnessing a dunk that appears to defy the rules of physics.
However, when contrasting an open gym with the ferocity of a real NBA game, the degree of difficulty grows enormously. Only the greatest of the best can be elite in-game dunkers since it is tough to translate your talents as a dunker in a team setting from one where mistakes are permitted but can stack up. The list below has the most jaw-dropping dunkers in NBA History.
Derrick Jones Jr.
Typically, basketball enthusiasts tend to favor players with a well-rounded skill set rather than those who are primarily known for their dunking abilities. However, Jones' inclusion in this context serves as a tribute to those players who excel in dunking because of his exceptional prowess in this aspect of the game.
Although there are no advanced statistics dedicated specifically to dunking, it is reasonable to assume that Jones starts his dunks from a distance farther away from the basket than any other current player. Even his impressive in-traffic slam over Jonas Valanciunas, which might seem casual at first glance, actually began much closer to the free-throw line than it initially appeared.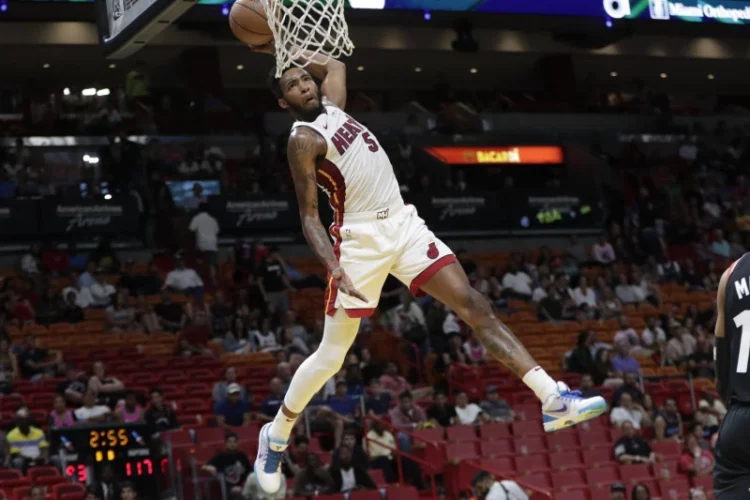 Given the nickname "Airplane Mode," it seems that Jones is either intentionally seeking to execute more challenging dunks or is unaware of the extraordinary heights and distances he achieves with his jumps.
Jones' journey in the league has been unique as he went undrafted and doesn't possess an extensive skill set beyond his phenomenal aerial talent. Despite this, he has been shooting at an impressive 51.4 percent from the floor this season and achieving a career-best average of 8.9 points per game. However, the future of his career in the league remains uncertain, and we can only hope that the Miami Heat or another team will continue to support and nurture his exceptional talents, allowing him to soar to new heights in the game.
Dwight Howard
Even at 34 years old, Dwight Howard continues to exhibit exceptional athleticism. If you haven't followed his NBA journey from his younger days, it's easy to imagine the incredible moments he must have had on the court.
While some people have taken issue with Howard adopting Shaquille O'Neal's "Superman" nickname (including Shaq himself), the comparisons between the two players were well-deserved. During his peak, Howard's divine-like physicality, coupled with the agility of a guard, made him an incredibly dominant force that seemed almost unstoppable.
Any doubts about Howard's Hall of Fame credentials can be quickly dispelled by showcasing highlights from his time with the Orlando Magic. He was undoubtedly one of the NBA's greatest players and amassed a collection of accolades that make a compelling case for his induction into the Hall of Fame, including a Slam Dunk Contest title.
Dwyane Wade
Dwyane Wade's legacy in basketball will be rightfully defined by his incredible clutch moments and his mastery of mid-range and at-rim finishing. However, one cannot overlook the impact of his electrifying dunks when discussing his playing style, especially during his time with the Miami Heat.
When Wade elevated for a dunk, the game seemed to transform into a lively streetball match. His particular flair and style of finishing dunks added an extra level of excitement.
Whether it was his Iverson-esque step over Anderson Varejao, as seen in the video, or his exuberant celebration after slamming one down on Kendrick Perkins, Wade knew how to turn up the swagger without coming across as arrogant. It was evident that he was just enjoying every moment on the court, playing the game he loved, and inviting others to share in that joy.
Notably, Wade also earned admiration for a now-iconic photo of him celebrating one of LeBron James' numerous above-the-rim finishes. The picture captured the camaraderie of a superteam that knew its greatness, but it also depicted the genuine excitement of a young man witnessing his friend's remarkable play.
Zach LaVine
Zach LaVine finds himself in an unusual position with a somewhat negative reputation despite his impressive performance on the court. Despite averaging over 25 points per game this season, he's not widely regarded as a star. While he has won two dunk contests, one of them has been criticized as being dubious.
Setting aside debates about his overall skill level, it is undeniable that LaVine is an exceptional dunker. After suffering an ACL tear, there were concerns about whether he would regain his athleticism. However, he made a remarkable recovery, returning to the court within a year and showing improvements in scoring and ball-handling, while also recapturing his effortless leaping ability.
Take, for example, the dunk where LaVine fearlessly faces a 7-foot-tall defender and seems completely unconcerned about the possibility of being blocked. His nonchalant execution of a 360-degree dunk is a testament to his extraordinary talent. Few individuals in the world can perform such acrobatic moves with such ease.
Although fans were hoping for a dunk contest rematch between LaVine and Aaron Gordon in Chicago, witnessing LaVine's gravity-defying slams during games is equally thrilling.
Russell Westbrook
In recent times, Russell Westbrook has faced criticism for his unpredictable style of play. However, back in 2008, when he burst onto the scene, his athleticism was truly awe-inspiring.
The dynamic duo of Westbrook and Kevin Durant, especially during their early days with the Oklahoma City Thunder, was nothing short of mesmerizing. Durant's exceptional scoring talent combined with Westbrook's ferocity and explosiveness made the Thunder a formidable and competitive team.
A quick glance at any Westbrook dunk compilation video reveals a recurring theme—each dunk is executed with a unique intensity that showcases his passion for the game. Considering his explosive playing style, it's remarkable that he hasn't suffered more serious injuries during his powerful dunks.
While some might have expected Westbrook's explosiveness to decline after enduring a torn meniscus and undergoing several offseason knee procedures, his performances with the Houston Rockets this season prove otherwise. At 31 years old, he continues to display the same level of skill and intensity as ever.
Summing it up!
These players are known for their extraordinary athleticism and ability to execute gravity-defying dunks that leave fans and opponents in awe. The summary likely includes highlights and descriptions of these players' most iconic and memorable dunks, celebrating their contribution to the excitement and entertainment of the game through their remarkable aerial displays.
Suggested Read: Mercedes pay tribute to 'Greatest of all time' F1 legend